In the last server version, the interval was added after which EPG should be parsed again.
But so far EPG has only been parsed for the channel currently selected in the client – so to have EPG for all channels, each channel had to be selected once.
In this version, therefore, "automatic EPG parsing" has been added: after activating "Parse EPG of all channels after the interval" in the settings, EPG is now parsed according to the interval for each channel.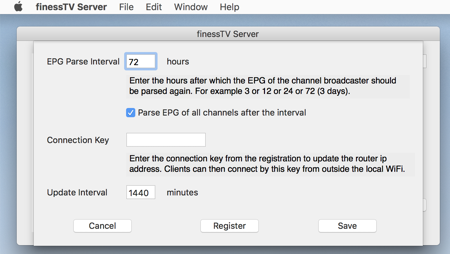 Once a client is started, the parsing stops – and continues when no client is connected.
Since the EPG parsing of all channels has taken too long, now only the EPG of the assigned EyeTV channels (in the EPG channel list) is parsed.
Frequently, EPG also contains information about other channels (such as radio stations) – these data are no longer parsed.
Further more, the EPG of the assigned EyeTV channels can now be exported as XMLTV in the EPG channel list.