The basic version of the stand-alone for Mac has now past the internal alpha test and are available for beta test at the download page.
The TV receiver must be Sat IP (DLNA/UPnP) compatible – like the Fritz!Box Cable Router or the FRITZ!WLAN Repeater DVB‑C.
After the successful connection, the available channels are displayed in a list and the current live stream is displayed in the main window.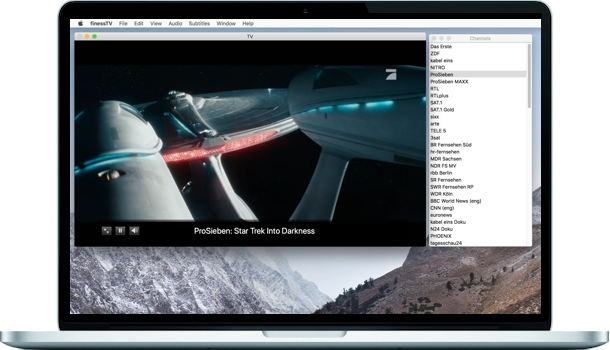 Selecting a channel will change the channel in the main window.
The channels can be resorted by drag and drop.
The up and down key selects the previous or next channel.
A double click in the main window toogles the fullscreen display.
In the main window, a control panel will be displayed at the bottom if the mouse cursor is moved over it.
The control panel allows it to pause / restart the playback, to toogle the fullscreen display and to switch the sound on / off.
And if available, the current channel and program title is displayed in the middle.
Furthermore the audio and subtitle track can be selected in the corresponding menues.
Please note that incoming connections must be allowed in the firewall settings for finessTV.