---

Media Show Arrangement
by opening or adding via menu functions
by drag & drop
by import of media
by adding during a media presentation
Media Show Features
Rename the displayed name (title)
Sort media by name, path, date or manually
Show/hide drawer (single view/contact sheet)
Convert media in one step
Optionally delete media from folders
Combine multiple movies into a new movie
Save media shows
Present media individually or together
Media Show Map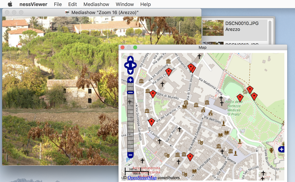 Display of all GPS positions
Media selection by clicking on a position
Media Show Import
Import from different applications
Convert multiple media in one step
Definition of the picture format and size
Definition of the movie formats
All features can be tried out with the
demo version
before
purchase
.
nessViewer is distributed by

.
Apple, Mac, iPad, iPhone, iPhoto, iPod, Apple TV are trademarks of Apple Inc., registered in the USA and other countries. All other trademarks are property of the respective entitled companies.
Some of the media shown are protected by copyright. Their representation is for demonstration purposes only.