As promised some time ago, finessTV 1.6 now supports more TV receivers.
There are now two server solutions: the previous server streaming EyeTV live streams (which has been renamed to "finessTV Server ET") – and the new "finessTV Server ST".
"finessTV Server ST" connects to a Sat IP compatible TV receiver like Fritz!Box Cable Router or FRITZ!WLAN Repeater DVB‑C, extracts the live channels from the M3U playlist announced via DLNA/ UPnP and starts streaming of the first channel.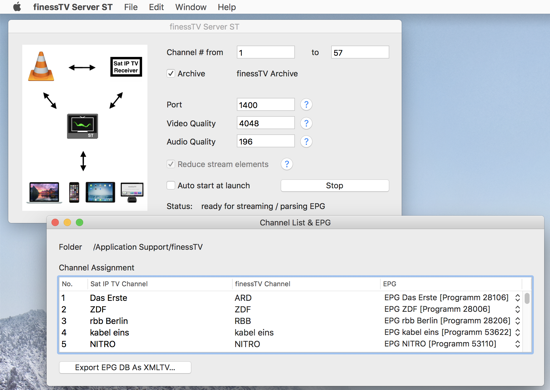 Alternatively / additionally, a M3U playlist URL can be specified in the preferences. This might be helpful if the Sat IP TV receiver does not announce a M3U playlist. Or if a Fritz!Box TV receiver is used and the HD channels should be available too.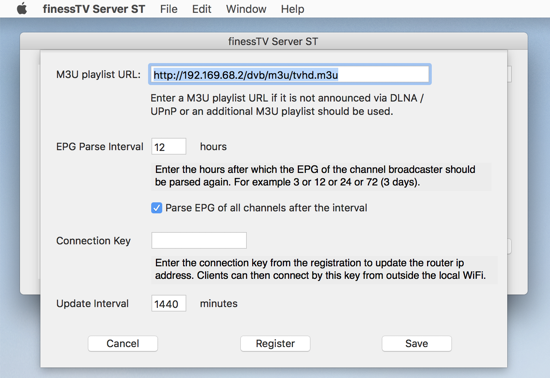 The channels can be resorted by drag & drop and renamed in the "Channels List & EPG" window (available in the File menu).
"finessTV Server ST" also supports EPG of TV providers – and we improved EPG parsing: if the EPG channel info has the same name as the channel name of the Sat IP TV receiver, then the EPG is displayed automatically. In other words: the EPG must not be assigned to the channels in the "Channels List & EPG" window.
Another important highlight is recording: Fritz!Box, for example, offers only the iOS app – and can not make recordings of a live channel. In contrast, finessTV not only offers clients for AppleTV, Mac, iPhone and iPad, but also allows programming of recordings. These recordings are available in the clients if a finessTV archive has been selected in the server.